---
Personal Training with
Gillian O 'Sullivan
Gillian has worked with clients ranging from complete beginners to competitive athletes and with all ages from 16 to 60+. She will assess the individual and create a programme to suit their specific needs. Through structured exercise programmes that include cardio, strengthening and toning, Gillian will help you get the results YOU want.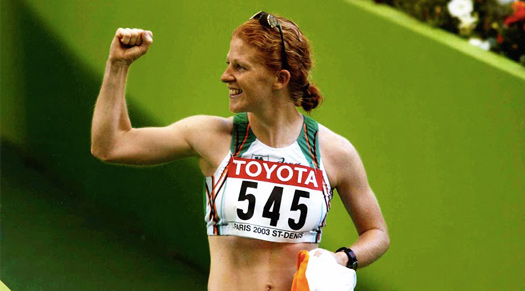 Profile
Gillian O'Sullivan is one of Ireland's most successful athletes.
She represented Ireland at European, World and Olympic Games in 20km Race Walk.
She began her career in 1994 and retired in 2007. She still holds every Irish record for all distances ranging from 3km, 5km, 10km & 20km.
Highlights of Gillian's career include:
10th Sydney Olympic Games, 2000
World Record, 5km, Dublin 2002
Silver Medal, World Championships, Paris 2003
Gillian is a qualified Personal Trainer (NCEHS, 2006)
Gillian has been working as a personal trainer since 2008. During this time, she has worked with many clients and has had great success in helping clients achieve their goals and targets. Gillian's personal style is based on guidance and encouragement of her clients.
Gillian merges her experience as an Olympic athlete with her experience as a personal trainer to help clients make the lifestyle changes they need.